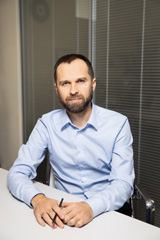 Senior Partner of Legal Bridge.
Practicing tax consultant and auditor.
Head of the department of financial consulting.
Tel. +7 495 287-73-94
Tax planning and tax optimization
Tasks of consulting on areas of tax planning and optimization projects are always conducted with consideration to the specifics of the client's business. Highly qualified specialists (leading auditors and/or leading lawyers) are always deeply involved in the realization of these projects. We pride ourselves on always using a team consisting of lawyers, auditors and using the best personnel of Legal Bridge.
One-time consultations in the sphere of accounting and taxation and in related areas of law
This form of consulting service is designed specially for companies that do not require the constant advice of consultants. In the framework of this offer, one-time consultations are provided on an on-going basis.
Legal support for the solution of complicated questions, tax optimizations, a set of documents, reduction of risks of conflict with the tax inspection and other law enforcement bodies.
Special solutions for payments to individuals
Why us?
Working experience since 1994.
A professional and experienced team. Vadim Kryuchkov, head of the Financial Consulting Department is a recognized practitioner in the area of tax planning, an author and a teacher of tax planning seminars at Moscow Business School, a member of a working group of the Education Committee of the State Duma of the Russian Federation, a designer of draft laws on taxation of educational institutions.
Our risks during professional activities are insured to the value of 5 million rubles.
During 20 years of work we have successfully realized more than 5,000 projects. Hoсhland, Moscow City Advertisement, NEWS OUTDOOR RUSSIA and other companies are among our clients.
We understand that in tax planning there are no universal solutions. Each case requires an individual approach. Please contact our consultant and receive a preliminary consultation.