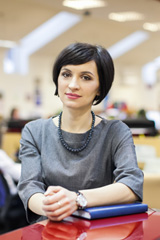 Practicing tax consultant
Tel. +7 (495) 287-73-94
One-time consultations in the areas of accounting and taxation
We render services in the field of tax planning and optimization of taxation both in Moscow and in other regions of the Russian Federation, as well as abroad.
This form of consulting service is specifically for companies that do not require constant advice from consultants. One-time consultations are provided on an on-going basis as needed.
The procedure of services is as follows:
Usually, a customer sends questions in by e-mail and the firm then answers the customers questions via a telephone call. The questions are answered by a consulting manager.
After receiving a question the consulting manager asks for the customers' desired term of preparation of an answer and after that agrees on the terms of the preparation of the answer with the customer.
A team of specialists are involved in the process of the preparation of consultations.
Costs of consultations (per hour):
| | |
| --- | --- |
| Specialist | 100 € |
| Senior consultant/Senior lawyer | 200 € |
| Partner | 300 € |
The customer pays for services including:
The time of the specialist that takes part in the preparation of the specific consultation. If an auditor assistant prepares the customers consultation the customer will not pay for the time that the assistant spent on the consultation, but instead the time that a leading auditor would have spent on that consultation.
Time expenditure for technical work in search of any normative acts, official explanations, court decisions, etc.
If you have any questions in the field of accounting and taxation we propose that you use complex subscription.
Why us?
Working experience since 1994.
A professional and experienced team. Vadim Kryuchkov, head of the Financial Consulting Department is a recognized practitioner in the area of tax planning, an author and a teacher of tax planning seminars at Moscow Business School, a member of a working group of the Education Committee of the State Duma of the Russian Federation, a designer of draft laws on taxation of educational institutions.
Our risks during professional activities are insured to the value of 5 million rubles.
During 20 years of work we have successfully realized more than 5,000 projects. Hoсhland, Moscow City Advertisement, NEWS OUTDOOR RUSSIA and other companies are among our clients.
We understand that in tax planning there are no universal solutions. Each case requires an individual approach. Please contact our consultant and receive a preliminary consultation.